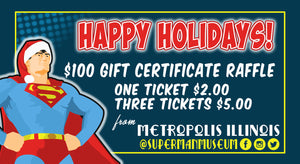 Enter To Win $100 Gift Card to SupermanStuff.com
Super Museum and Supermanstuff.com are Raffling Tickets for a chance to will a $100 gift certificate to use at the Super Museum and Gift Store or Supermanstuff.com!
Raffle will be drawn December 15th, if you are the winner you will be contacted through an email or social media.
Tickets are also available in the gift store of the Super Museum in Metropolis, Illinois.
Good Luck!!
---