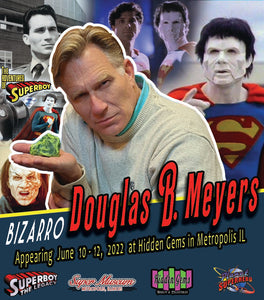 Bizarro actor Douglas "Barry" Meyers will appear in Metropolis!
One more SUPER announcement... We are proud to announce actor Douglas "Barry" Meyers will be joining us at "Hidden Gems Super Mini Con" which coincides with the 44th Annual Superman Celebration this year! Douglas is best known by Superman fans for his role as Bizarro on DC's hit show The Adventures of Superboy, though he made another guest appearance on Superboy as Caliban, who possessed significant supernatural power! Barry will be with us June 10th and 11th 2022 at
Hidden Gems Novelty and Collectibles
signing autographs, and taking photos with Super Fans! Do not miss this very RARE opportunity, BIZARRO does not make many appearances so we feel very lucky to have him this year! Hidden Gems is located at 609 Market Street, just a half a block down from the Super Museum and Superman Statue! We are proud to partner with
Superboy: The Legacy
and Planet Super Hero once again for this exciting news! Be sure to make your plans to stay in Metropolis!
Greater Metropolis Convention & Visitors Bureau
Superman Celebration
---